Entertainment
Will RuPaul's Drag Race UK ruin the British drag scene?
RuPaul's Drag Race UK is here, but not everyone is happy about it.
After years of speculation it was finally announced in 2018 that RuPaul will host the UK version of the TV phenomenon on BBC Three. However, some queens and queers worry that Drag Race UK could do more harm than good for the eclectic British drag scene.
On Twitter, people responded with mixed emotions, many claiming that a UK edition of RuPaul's Drag Race could, in the words of Drag Race 7 and All Stars 4 alum Jasmine Masters, "f**k up drag."
http://https://youtu.be/gf25Xzhpz_k
Has Drag Race become too big for its own good?
RuPaul's Drag Race: the monolith
RuPaul's Drag Race has helped me understand straight men.
Before Drag Race I never understood how some, including my dad, could bond with each other purely over sport.
Ask him whether he likes Paul or Sarah and his response will likely be, "Yeah, they like football/tennis/synchronised swimming," or "No, they don't follow sport so we have nothing to talk about."
This confused me, but with RuPaul's growing empire—2019 will see All Stars 4, Drag Race Season 11, Drag Race Thailand and Drag Race UK— it's become clear how one entity can be so huge as to unite a whole section of society.
It's not just a TV show—it's gay sport.
Drag Race is as guaranteed to be topic on a first date as your coming out story.
I, too, can now bond just through cheering for my favourite player (Monique has my heart), arguing over the ref's judgements (Monique should have won the first challenge), and analysing performances (just not Monique's last lip-sync).
But will its vast size and immense power harm the UK scene? Let's look at some of the concerns of UK drag artists below.
Drag is now a commodity monopolised by RuPaul

— N E O N 👽 (@neonlibs) December 5, 2018
Will RuPaul's Drag Race consume UK drag?
RuPaul's Drag Race "imposes a specific type of American drag," say Dragpunk—a Birmingham-based collective consisting of drag artists Amber Cadaverous, Lilith, Paul Aleksandr, and Tacky Alex.
They worry RuPaul's Drag Race UK won't feature Britain's full range of diverse drag acts because they are "at odds with the fame-driven commoditisation that Drag Race pushes."
"It risks undermining and damaging all the hard work people do across our communities."
Neon, a drag queen "floating around south east England" agrees, fearing that Drag Race UK "will become a factory farmed version of itself."
"All drag is valid and the boundaries of what drag actually is are constantly being pushed, I don't want there to become a mould that an artist must fit in order to be considered a real queen," says Neon.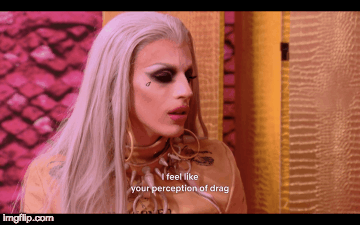 This isn't the first time RuPaul's Drag Race has been critiqued for supposedly stifling the art of drag.
Charlene, a trans woman and drag queen based in Brooklyn, spoke of the effect Drag Race has already had in the US.
"Who is good at Drag Race is equated to who is good at drag, and queens palette themselves to get on," Charlene told The New York Times.
"There's this dance you do on Instagram and way you network yourself.
"We're like, in Toy Story, the aliens in that machine waiting for the claw to pick them up.
"We have this stagnancy of queens doing the dance rather than focusing on their art."
Could RuPaul's Drag Race divide our queens?
RuPaul's Drag Race makes stars out of its contestants.
"There's a ton of full-time queens in New York. They're not making hundreds of thousands of dollars, Drag Race girls are," says Season 7 runner-up Pearl.
But all that attention heaped on so few can mean that if you haven't been on the show, your bookings may actually decrease.
"The clubs only wanted Drag Race girls."

—Sherry Vine
Joe Jeffreys, drag historian at New York University, argues that RuPaul's Drag Race "has only made opportunities for those contestants."
"If it was the true golden age of drag… I would see mass audiences flocking to the drag shows at my local bars," says Jeffreys.  "They are flocking to events featuring contestants from the show, but when you get back down to that localised, gay bar drag show, the doors aren't breaking down yet."
US queen Sherry Vine experienced this first-hand, noticing a drop in bookings once RuPaul's Drag Race started to gain traction.
"The clubs only wanted Drag Race girls. We were like: 'Oh my God, what are we supposed to do?'"
The fact that young, high fashion, female-passing queens tend to do well on Drag Race complicates matters further, as the UK drag scene has historically thrived on the complete opposite.
Just take a look at the brash, masc and often comedy-trash aesthetic and routines of queens like BopaRhys—"it means Aunty Rhys for any of those unlucky enough to grow up outside of South Wales"—the Sink the Pink collective and Frieda Slaves.
If the Drag Race style of drag is elevated at the expense of quirky British drag, RuPaul's Drag Race might well usher in a whole new era of Insta queens with flawless make-up. But will there be room for both? Or will the clubs only want Drag Race alum?
Is RuPaul's Drag Race too exclusive?
RuPaul's Drag Race has been repeatedly criticised for its exclusion of contestants that aren't cis gay men, and many UK drag artists are concerned that exclusivity could damage the UK scene.
"To think some of Dragpunk and so many UK drag queens and kings could not enter Drag Race because of their non-drag gender is shocking," say the group.
BopaRhys agrees, "My main issue with the show is that it does not reflect the community I'm in.
"Drag is created by us as a community… queer spaces have been fought for to allow all bodies the same right to self expression."
"Our queer history was founded by many, including trans men and women, people of colour, cisgender women, gay women and drag kings," adds Birmingham bio-queen Lacey Lou. "Where's the inclusivity for them on the show?"
Neon points out RuPaul's notorious Guardian interview in regards to the 'rules' of drag. "I don't want that ideal of drag to monopolise our scene as it excludes any drag act that isn't performed by a man."
"I reckon UK drag is going to become more inundated with slurs that will eventually harm trans people trying to get into drag."

—Elena Schmidt
Since that Guardian interview and the enormous backlash that followed, RuPaul and Drag Race seem to be trying to make the show more inclusive, inviting trans contestants Sonique and Gia Gunn to return.
However, there is still no indication bio-queens like Lou will be allowed on.
But the issue is larger than just who gets to compete on RuPaul's Drag Race.
Elena Schmidt, a trans woman, is not a drag queen but is "forced to look at the scene to forecast when the next wave of anti-trans sentiment is going to swap over."
"Drag Race has had an absolutely terrible effect on drag because its open use of the most transmisic slurs, like tr*nny and the porn category sh*-m*le, has enabled countless people to use them as well," says Schmidt.
"It has an enormous normalising effect on slurs that the mostly cis, mostly male drags do NOT have the place to reclaim.
"I reckon UK drag is going to become more inundated with slurs that will eventually harm trans people trying to get into drag. The UK has already had massive pushes against trans rights and this is not going to help."
It's not all a drag
All the drag artists I spoke to were still grateful to the franchise for bringing their art into the mainstream, and have not dismissed RuPaul's Drag Race UK entirely.
"If it represents the insane diversity of UK drag and UK LGBTQ history, it could be fantastic," say Dragpunk.
My dream drag race UK snatch game lineup pic.twitter.com/Ff3jBdxxJ7

— 🥃Russell (@RussellHayward) December 5, 2018
"Drag can now sell out big venues across the UK," says Rhys.
"It's inspired people to become queens but also it's inspired people to become audiences."
Rhys is right. Season 6 winner Bianca Del Rio, whose clownish, scathing humour is probably more akin to British drag than American, will be the first drag queen to play Wembley in May.
The message from the UK scene to Drag Race is: Be inclusive of trans people, pay homage to our diversity, include contestants from all genders and aesthetics, and you'll be welcome here.
More: amber cadaverous, bianca del rio, bio-queen, BopaRhys, Charlene, dragpunk, Frieda Slaves, Jasmine Masters, Joe Jeffreys, lilith, Neon, paul aleksandr, Pearl, rupaul, RuPaul's Drag Race, RuPaul's Drag Race: UK, Sherry Vine, sink the pink, Snatch game, tacky alex, TERFs, Trans, uk drag